※ The rare book exhibition room will be open after taking measures to prevent the spread of infection.
For details, please see the following web page.
News"Reopening of the rare book exhibition room (May 6th-)"
The rare book exhibition room was established in March 1995, for the purpose of introducing the rare materials the University of Tsukuba Library hold.
The theme of this exhibition is "Japanese publishing culture." We introduce the materials the library hold, with some changes of exhibits.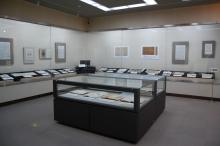 Venue
The exhibition room (Central Library Annex 1F)
Admission Free.
Opening Times
From Monday to Friday
9:00 am - 12:15 pm, 1:15 pm - 5:00 pm
(Closed on national holidays and New Year's holiday season)
Current Exhibition "Publishing Culture of Japan"

1. From Manuscript to Printed Books
Materials which has ○(circle) in the "image" column are available in the format of electronic image via OPAC.
2. Introduction of Letterpress printing
3. Publishing Culture in the Early-modern Times
Small Special Exhibition "The portrait of the athletes"
Past Exhibitions