The special exhibition "Great Confucian Masters and Sages" is held at the Central Library.
This exhibition is held to celebrate the completion of repairing of the hanging scroll paintings of Kano Sansetsu, our collection.
We received grant from "the Asahi Shimbun Foundation," "the Idemitsu Foundation for Culture and Social Welfare," and "the Sumitomo Foundation" to complete repairing.
※Due to coronavirus infection control measures, visitors are requested to refrain from entering the library.
(For more and new information of the library, please check "Preventive measures against coronavirus disease")
Period: Monday, May 16 to Friday, May 27, 2022 9:00-17:00
Location: Exhibition Room (Central Library Annex 1F)
Inquiry Section of Historic materials TEL 029-853-2376 (direct line)
Official Website
     https://www.tulips.tsukuba.ac.jp/exhibition/2022rekisei/ (in Japanese)
For preparation the exhibition, the Central Library Exhibition Room will be closed during the following period.
Monday, May 9 to Friday, May 13, 2022
Monday, May 30 to Tuesday, May 31, 2022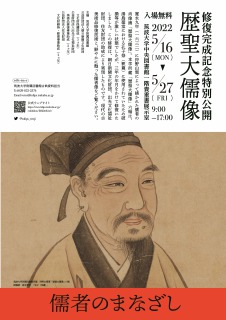 Poster(PDF 1.75MB)