2020/03/24 updated


Due to preventive measures against coronavirus disease, in University of Tsukuba Library, visitors, including who have library card, are requested to refrain from entering the library.
Period: March 5 (Thu.), 2020 - until the date to be determined

When the change has occurred, information will be provided by the library web page etc.
Please see the link.
We welcome everyone to visit and browse library collections. Please refer "On-site user services".
However, the library card is necessary to check out materials.
Anyone who meet conditions for application can get a library card.
Welcome back, to the library!
We issue a library card to the graduates of the University of Tsukuba.
To graduating members on March 2020:
You can apply library card. However, receipt of it after April 1st, 2020.
Please return all books by March 31. If you not, we can't issue you even after April 1st.
Conditions for applications
Graduates the University of Tsukuba
*Who were students in regular classes of graduate school, graduate school can apply according to law decree.
(Please apply from"Visitor"if you are Credited Auditor, Non-degree Research Student[Kenkyusei]、Exchange Student[Tokubetsu Chokogakusei,Visiting Student].
*Alumnus who graduated universities as following can also apply.Same documents are required.

College of Medical Technology and Nursing, University of Tsukuba
University of Library and Information Science
Toshokan Tanki Daigaku
Tokyo University of Education

Using and borrowing materials in University of Tsukuba Library.
Never have been banned of issuing the library card before.
Not borrowing any materials at the University of Tsukuba Library now. (If you are borrowing, you can apply after returning them.)
Available services and Lending Policy
The library card is valid for 1 year from the date of issue.
Entering the library
Borrowing up to 6 materials, 3week (There is overdue penalty
※You cannot renew your due date, reserve and having books delivered, borrow audio visual materials.
※Journals are internal use only.
Accessing "My Library" (you can check your materials on loan and refer your loan history.) ※ID and the password you receive are required when you login.
Card holdes
Applying for the first time
Changes after June,1,2018
Changes in application
Changes in services
You can borrow up to 6 books. (previous 3 books)
Valid card holders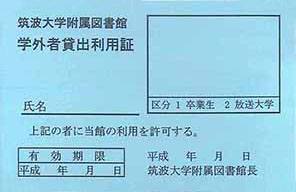 You can use libraries in the new service content until your expiration date.
You can renew your card. Renewal can be done online.Refer to"Renewing your card"
Renewing your card
Conditions for renewing
You have the library card issued before May 31 2018.
If you are borrowing, you can apply after returning them.
You have the library card issued after June 1 2018.
If you have an overdue book, you cannot apply.
Notice
You have to submit an old card when you recieve a new one. If you lose your card, you have to apply as a new application.
You can renew your card anytime. New expiration date is one year from the date the library staff made the renewed.
You cannot use your card until getting the new one.
How to apply for the library card(New,Renew)
We accept your application online. (You can start applying from the following link.)
Link to the application form
Auto-reply will be sent after your application.
Then, we sent you an e-mail to notice you the library card is ready.
Notice! Please be enable to receive a mail from "@tulips.tsukuba.ac.jp".
Receiving the library card(New,Renew)
Location, hours and Requirements
You can receive your library card at the main counters of libraries.
You can receive the card anytime if libraries open.
Notice! At the central library, acceptance on weekdays is until 22:00.
Required documents
New

ID(driver's license, resident card etc. with your current address)
Graduate certificate(Please prepare any one of the following.)
Certificate of graduation(photocopy is accetapble) Request For Certificate or Diploma
Diploma
We issue the library card to who were graduate schoool and did not finish.Please prepare the Certificate of EnrollmentCertificates of Degree Completion

Renew

ID(driver's license, resident card etc. with your current address)
A library card
Inquiry
If you have any question with application, please contact us with your information as following.
Name
Whether you hold the library card of University of Tsukuba Library
Barcode number of your library card (if you have)
E-mail
E-mail:libcard@tulips.tsukuba.ac.jp
Tel: Contact list