Tulip-san
She has come from a distant planet to provide easy-to-understand explanations about how to use the library. She has a tulip-shaped headset to receive your questions.
She is like a helpful older sister, but on rare occasions does frown at Gamajumper and unreasonable people.
| | |
| --- | --- |
| Home Planet | Repository |
| Birthday | April 30th (Star sign: Taurus) |
| Working Place | University Library |
| Qualifications | Librarian ; Taxonomic Proficiency Test (4th grade) |
| Favorite Food | Mugiko sweets |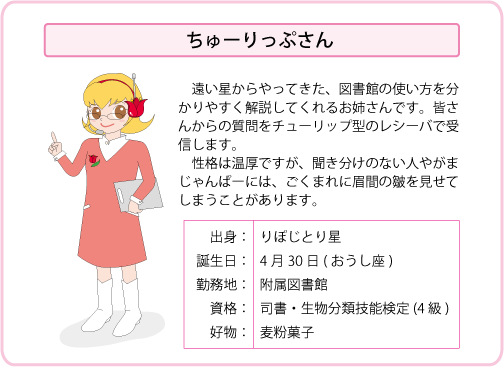 Gamajumper
He had been in training on Mt. Tsukuba, but descended from the mountain to become a student. Writing the lecture reports is still a big challenge, but he believes that he can overcome this by using the library effectively. He is naturally curious, but sometimes jumps to conclusions and keeps Tulip-san on her toes.
Home Pond
The one at the center of the University of Tsukuba
Training Place
Mt. Tsukuba
Favorite Flower
Hosta
Mode of Life
He doesn't hibernate and hates rain.
Favorite Sports

High diving (in summer)
Ski jumping (especially pairs, in winter)
This information is subject to change, depending on the mood of the subject.
(c)University of Tsukuba Library