We will hold a briefing session on the global standard academic researcher identification ID "ORCID (Open Researcher and Contributor ID)", explaining its outline and utilization policy, and operational status at University of Tsukuba.
(1) Date : Nov. 20th (Fri.) 2019 3:00 pm - 5:00 pm
(2) Location : University Hall, International Conference Room
(3) Participants : Researchers(Faculty and graduate students), Research support staff
(4) How to Attend : Pre-Registration. Participation on the day is also possible.
※ Registration form :https://forms.gle/Lq33QXLaSgw87BwC9
※ Please feel free to let us know when you need assistance.
(5)Program: (In Japanese)
Concept of the briefing session / Faculty of Library, Information and Media Science Professor ITSUMURA, Hiroshi【5 min.】
Lecturer:About ORCID / MIYAIRI, Nobuko Former ORCID Regional Director, Asia / Pacific 【35 min.】
Lecturer:Consideration of ORCID consortium in Japan / Faculty of Library, Information and Media Science Associate Professor TAKAKU, Masao【20 min.】
Case report :Examples of how ORCID is used at University of Tsukuba / Faculty of Art and Design Professor KOYAMA, Shinichi 【15 min.】
Case report :Registration and practical use of ORCID by Researcher / Faculty of Engineering, Information and Systems Associate Professor AKI, Hirohisa【15 min.】
Question-and-answer session【20 min.】
Cosponsored by Department of Research Promotion and Department of Academic Information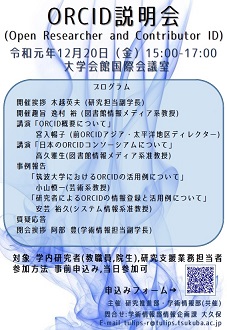 ---
If you have any questions, please contact::
Department of Academic Information Division of Academic Information Planning
Ohkubo (tulips-r#@#tulips.tsukuba.ac.jp)※Please replace "#@#" with "@"