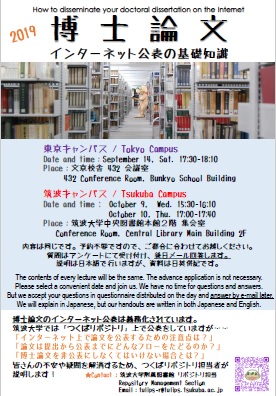 [Tokyo Campus]
Date and time: September 14, Saturday 17:30-18:10
Place: 432 Conference Room, Bunkyo School Building
[Tsukuba Campus]
Date and time:
(1)October 9, Wednesday, 15:30 - 16:10
(2)October 10, Thursday, 17:00 - 17:40
Place: Conference Room, Central Library Main Building 2F

* The contents of every lecture will be the same. Please select a convenient date and join us.
Your doctoral theses in the University of Tsukuba will be registered in "the University of Tsukuba Repository (Tulips-R)" and published on the Internet.
It is great that people all over the world can read your research results, but don't you have any fear about copyright problem and operation for registration?
We, Tulips-R manager, will explain to graduate students, faculty and staffs.
* The advance application is not necessary.
* You can either enter or exit the place freely.
* We have no time to questions and answers. But we accept your questions in questionnaire distributed on the day and answer by e-mail later.
* We will explain in Japanese, but our handouts are written in both Japanese and English.
We are waiting for your participation!