Using CD-Mainichi Newspaper
---
Supports only 1 user at a time.
Since there can only be one user at a time, please refrain from using the system for extended periods of time.
As soon as you have finished, please close the search program.
To start the search program, from the Start menu, select "HD32ビット毎日新聞" (HD32bit Mainichi Newspaper). When the service is started-up successfully, a screen like Screen 1 below will be displayed.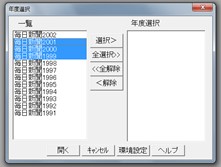 Screen1
If Screen 1 is not displayed, or an error message appears, another user is already accessing the service. Please wait for a little while, and then try again.
From the screen like the one shown in Screen 2 below, select the year that you want to search, and then click "開く" (Open), as shown in Screen 3.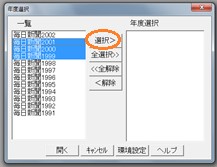 Screen2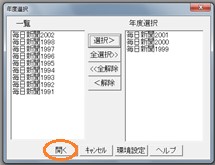 Screen3
Enter the search keywords and press the Enter key to start the search.
If the search is successful, a list of the results will be displayed in the "見出し一覧" (Title list) tab, as shown in Screen 4.
The content of each article will be displayed in the "記事本文" "(Article text) tab, as shown in Screen 5.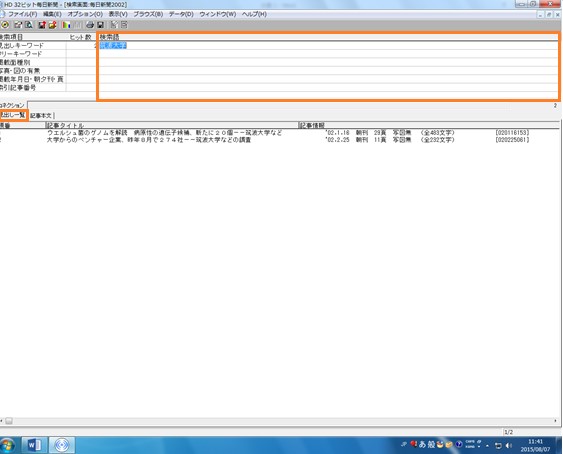 Screen4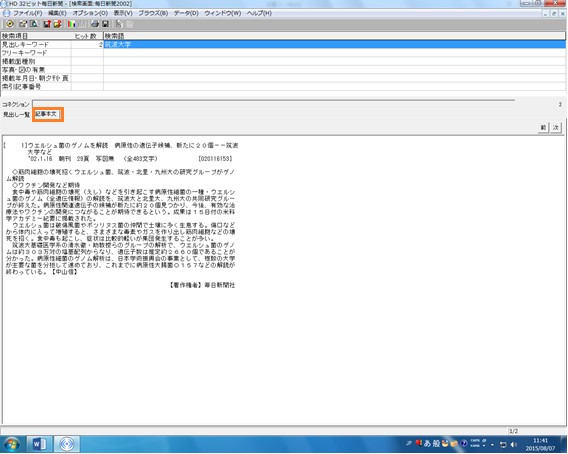 Screen5
The search results cannot be printed from the search screen.
As shown in Screen 6, click the Save icon to output your results to a USB memory.
You will be able to print the data saved on the USB memory from a separate application.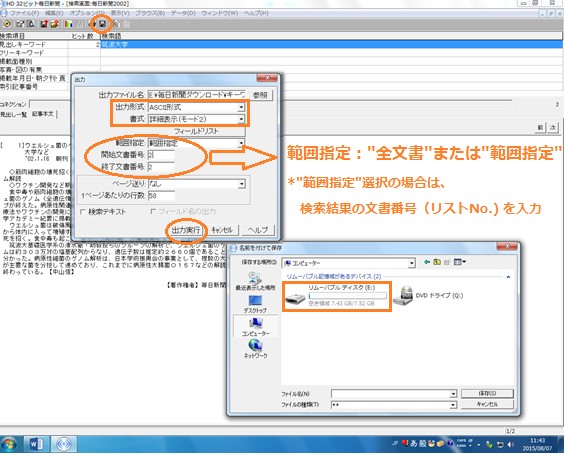 Screen6
Other Important Notes
When making use of this data, be careful that you do not infringe any copyrights.
The "検索条件の保存" (Save search conditions) function cannot be used.